What if your whole life was determined by a single test?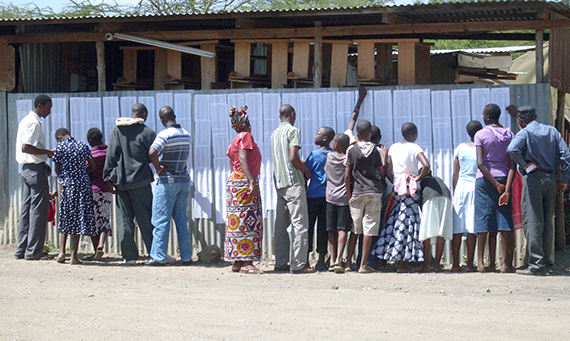 There is a lot of discussion lately about whether US schools are testing too much… and the pressure it puts on kids. Imagine the pressure if your only way to be allowed into a decent school came down to one test, as is the case for schools in Tanzania:
We watch as the children and parents approach "the wall" together, pushing through the crowded front line to get a glimpse of the results. The results are posted by school selected to, so, without knowing that, the children can only look up and down the lists and lists of names posted on the wall by school, looking for their own. We can see the anticipation on their faces, we can feel the tension, and we all smile as a child looks at their parent and jumps up and down, having seen their name. And for others there are tears, as the realization sets in that school is not in their future. It is absolutely heartbreaking. Some search the list for hours, one sheet after another, refusing to accept, needing to be absolutely certain that their name is not there, and then walk away in sadness.
Read the whole article: When Your Fate Is Decided by the Results of One Exam
---
If you want to find out more, and even how to contribute to a difference, visit jifundishe.org
The organization was founded in 2004 when local students, teachers and villagers – together with foreign volunteers – identified the potential value that could come from a library in this area. In Tanzania, educational opportunities are often inaccessible due to financial, geographic, and resource constraints. The founding members of Jifundishe recognized that education not only greatly improves a general quality of life – but also that literacy and schooling are important common denominators in addressing disease prevention, birth rates, access to income, and community health. In response to this need, the founding members of Jifundishe coordinated donations of supplies and resources from the United States and Tanzania, and in November of 2005 opened the doors to the Imbaseni Free Library. The small, two room library provided books and gazettes and hosted specialized programs such as eye clinics, malaria prevention workshops, children's reading programs, dental clinics, and writing workshops.
By: Nisha R Category: Articles Tags: non-profit, tanzania, third world education